STEP THREE - TEAK OIL SEALER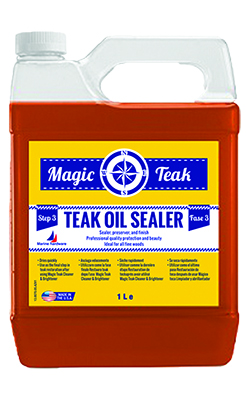 • Natural color
• Dries quickly
• Use as the final step in teak restoration after using Magic Teak Cleaner & Brightener

Instructions:
First traeat it with :
Magic Teak Cleaner & Magic Teak Brightener

Appply to dry teak surface using a clean cloth, sponge or brush.
Apply by working in the direction of wood grain to maximize penetration of oil into wood.
Wait 5 minutes before wiping treated area with a clean cloth to remove excess oil.